The Duke Chronicle
The life and times of Beereegan Indigo Blue NRD (Tully & Trapper Son)
DOB: 24/09/16
By Bart Irwin – Owner and Trainer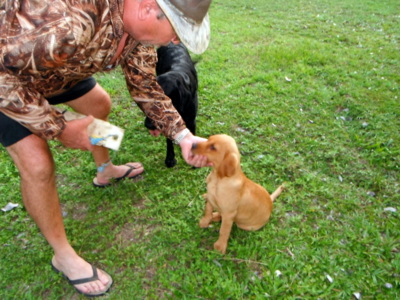 13 months. First hunt
Mango Farm
Duke picks up his first goose. Nine in total. One break. Great day.
Second hunt
Melon Farm
Four corellas. Not enamored with corellas, to say the least.
Third hunt
Mango Farm
10 geese. On fire. He is loving it.
Fourth hunt
Mango farmn
Three geese and two ducks.
First ever wounded bird, a duck had him a little concerned. I picked that one up in the end. He wasn't confident and sat next to it.
Fifth hunt
Mango farm
12 geese with two true doubles nominated for Duke and retrieved in proper order.
Home Training
Found a pigeon trapped in the chook house. Caught it and rang Graham for instructions on using the live bird. Trussed the pigeon with one wing free using rubber bands. Threw the bird into knee high grass and Duke exploded after it, but when confronted with the flapping bird, became a Red Setter, and sat next to it again. I again called Graham and he instructed me to move in and gee him up or grab the bird and repeat. As I moved in Duke got brave enough to pick the bird up, the bird got free and flew very low toward the palms with Duke snapping at its tail. He emerged from the garden with the bird in mouth for a very good retrieve.
Sixth Hunt
Mango farm
Seven geese. Duke came back with his first live goose. It was lucky that it didn't flap, just had its neck extended. I thought it was dead from where I was until he lifted it up. But a live all the same.
Seventh hunt
Mango farm
Duke took another step forward yesterday.
He was able to ignore dead geese placed in the decoy set to retrieve freshly shot birds out and beyond the deeks.
His speed outward bound is remarkably faster after the live pigeon training.
He still struggles to get a grip of the body and not trip over wings on the retrieve, but I am hoping he can overcome this.
14 months
Home training
Another dove trapped itself in the chookhouse. I trussed it and did some retrieves with Duke.
He was again hesitant first time, but picked it up after a moment. Then he did the next four without putting a foot wrong.
I must find some ducks for him over the next few weeks. I am sure the splash and running through the water will send him to another level.
Home training
Duke is remarkably easy to train new things that matter to me. Daisy came in season the other week, so it was necessary last week to walk them separately. This involved leaving Duke in his run while the Daisy was visibly walked and trained away from him. He gave a small bark at first and I growled at him. He gave another when we went out through the gate to the bush for the walk. I growled again. He gave one more as we went out of sight and I came back and growled at him again. Problem solved. He doesn't bark anymore when I leave him at home and put my attention to Daisy. This is even more satisfying considering the first time we have done this is when she is highly heated up.
What a dog! Mark and Wendy were right about how biddable he is.
His digital counter arrived from China the other day for the princely sum of $4.49AUD. It has been set to his current total of 54 and hangs with my duck and goose calls on my lanyard. Every retrieve will be recorded and hopefully he will break Roy's estimated total of 3000 magpie geese and ducks.
His neck is strengthening under load. Now we just need him to be taller, so he doesn't trip over the wings and neck.
Eighth hunt
Mango Farm
Duke and I went out to AHF today for a shot. The club had held two shoots there a fortnight ago with very few birds seen or shot. I thought I should do a maintenance shoot just to keep the birds wary. It was as expected, very few seen in the airspace over the farm.
Duke though pulled off his best retrieve to date. My first bird did a Richard Widmark death with wings thrown back dramatically. I knew it was dead. So, I lined Duke up for a hidden retrieve into
thick bush, long grass and pandanus palms. He went off like a shot and 30 seconds later emerged with our goose. He followed this up later with a goose that fell about six rows across and would have been hidden to Duke. He nailed it again with a straight run from my direction.
Home training
I took Duke out for a bit of follow up training. His delivery to hand needed some work. He has begun circling me with the bird prior to delivery. I wanted to change this to immediate delivery in front of me. I will do some repeats this arvo and over the next few days as well. Considering he is going to be marked by Graham within a few weeks we just need a little bit of polishing off.
Ninth hunt
Melon Farm
Today Duke took another big step. The second bird I donged this morning was in fact a little more alive than I thought. It did flap on his arrival and he just dove in and picked it up. His delivery was better but not perfect. I will continue to polish this up. Only three birds for Duke today.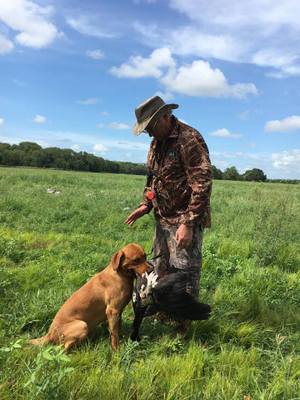 Note him slyly checking out the camera. This photo kills me.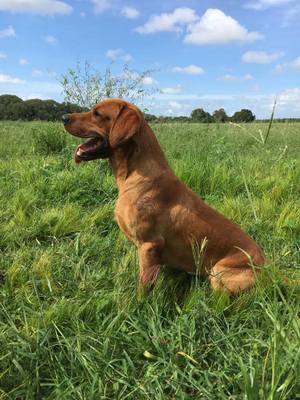 15 months
It's been a big month for Duke. We can't believe how time got away from us so quickly. I took Duke off lead last week and he stayed steady to shot for four birds and made excellent retrieves. Then he finally broke. But we are gonna keep working on it. We went back to work on long line training. He did a 200m retrieve on the track out the back. It was a ripper. Yesterday we were hunting and because I had Morgan Raymond with me I didn't send Duke until the shooting slowed right down. We had eight birds down and he found them all. He took the lines I sent him on, with the 'Put em out' command and found those birds. When he got all the ones I knew where they were, I sent him off with another 'Go find' command and he just kept broadly arcing and winding the birds to find them. Question to the master trainers…How should I be doing this and should I have two commands?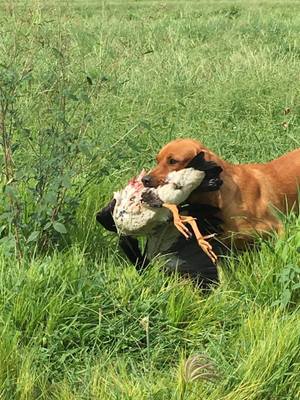 13th hunt
Mango farm
We were short on time this morning so it was just a quick hunt so Duke could have a few retrieves for the weekend. He did very well retrieving five of the seven shot. Two of the geese were too close. It was a good lesson that not all fallen birds are his retrieve. The second bird of the morning was memorable. He is now fearless with big, wounded birds. I had one down about 80m out in a paddock. Duke took off at warp speed. As he closed on the goose it got up and tried to fly. He hit it full tilt and then on his turn and its attempt again to get airborne snatched it down. He is living for this. It was the highlight of my morning.
15th hunt
The Duke surprised me again today. I have been whacking the odd Corella among geese now for a few weeks and when encountered, discouraging him from retrieving them. Inevitably he does pick the odd one up, but steers clear of the live ones. I hope in part thanks to my yelling NO, NO over and over. I may be reading too much into this, but I am hopeful I might be able to direct him to
prescribed birds now after this morning's session. I had a goose go down out at about 50m. Just off line I had a Corella down at 30m, about 5m off to the right of the line. I sent Duke, he veered to the Corella when winded on his journey to the goose, I yelled NO, NO and he straightened up and continued on to successfully retrieve the magpie goose. Go Duke. You make my day.
PS: I think his neck muscles and strength have developed more now. He didn't trip on one bird this morning and he was in thick paspalum grass.
16th Hunt Mango farm
Duke and I had another good morning. Duke picked up all nine geese. The best thing that occurred was when he had just returned with a goose to hand. Another came into the decoys, I whispered stay and my partner shot and missed, but he stood solid. Good Duke.
17th Hunt Mango farm
Quite a good hunt. Steve Lees joined me a little late. For some reason my shooting was a little off although I got six geese for the morning and a dozen corellas. This was the final day of the season proper. Surprisingly we had a cool morning breeze and the geese decoyed well considering it was the end of the season and we were set up adjacent to Harrison Dam. Duke didn't have his usual pep when we went for our evening walk. The 13 geese must have slowed him down a bit.
16 months 20th hunt Hay farm
Duke and I have been out hunting a couple of times in the past weeks, but we have had mates with us and a couple of their dogs. This has caused Duke's retrieving to be limited to seek and find a few birds when the others have completed their retrieves at the end of the hunt. He has been very keen but not to the point of whining or anything like that when the other dogs retrieve. This morning he found the last three birds by winding them. He knows instinctively to move across the field using the wind to advantage. He went down wind of the killing area and then worked across it to locate the last birds. He is a clever dog. We are going back out alone on Monday morning prior to some conservation work, spraying weeds at Harrison Dam. Hopefully I can shoot well enough to add another dozen to his tally. We like round numbers.
21st Hunt Hay farm
I had to go back to the Middle Point district this morning to drop off some chemical drums for the heli pilot to spray weeds at Harrison Dam. I thought I might as well get up a couple of hours early and have a quick hunt. The back of the ute was packed with 20lt drums so Duke had to ride up the front for the first time. He was sitting on the passenger seat floor with his head rested on the seat and asleep before I got out of the estate. I set up the deeks just out from the shed, hid back in the tall grass and waited. Duke had been dashing around while I set the deeks so he had a drink and settled down beside me. Not long after the first birds started to approach from Fogg Dam in the west. I steadied Duke with calm words of Stay and Watch. The mob came in. I shot one, it was dropping, I shot the next and it dropped near the other. I looked down and Duke was still next to me quivering to retrieve. Fetch and away he went. I shot two more doubles in a row with six from six
shells. He never broke all morning. I pulled up on 12 birds. Eight of which were doubles and he never lost a bird. Just about everyone fell in grass that ranged from three-foot high to seven feet high. This was my best hunt of the season. No restraint necessary. He is solid. A great day indeed. If the birds stay in the district for another week or so I think he can get the double ton in his first year.
17 months. Musings at home
I have been slack again not reporting Duke's progress regularly. Duke had his biggest retrieving day last Thursday. We started hunting in the morning with Bedgy and his two dogs. All were on leads and we shared the birds around the dogs. Pete headed to work at 7.30 am and I went to town, so to speak. Duke only had two retrieves in front of his peers. But once we were alone we went into overdrive. I need to train more to keep him true on delivery, not breaking and not switching between birds. I won't allow us to go rogue again…. I hope.
25th hunt. Hay farm
I have been hunting at the end of the hay adjacent to the turf for the last few weeks. Duke has improved and lost the bad habits. The regular training keeps him in touch.
Last Thursday he had his biggest day ever. He still broke once but delivery improved.
I mucked up once when he had just returned with a bird still in his mouth. I shot another and sent him for it before I took the first retrieve out of his mouth. He was steady, but took off with the first bird still in his mouth and dropped it next to the second bird and retrieved that one. Big mistake on my part. I learnt from that and that scenario occurred twice this morning. Duke held the bird, watched the next two drop, and marked the falls. I said "Give" and "Fetch" and he did the job. Problem solved/averted.
Although I have the Sit Wand (fishing rod butt), he still isn't subscribing immediately he is gently touched on the arse when he has real game in his gob. He does with dummies.
Here is a photo of Duke proposing to me with a goose band for a wedding ring. (Check the right leg) On birds he hasn't seen drop, he runs a line with the wind up his bum and then at 150m cuts across at right angles getting a cross section of the wind/scent. Bingo! He finds the bird every time. Today he did that four times, exactly the same. He also produced his best retrieve to date. 280 – 300m. I was about to give it away when I heard the Cocky coming on his quad to scare birds. I dropped another box into the pouch and dropped five before he arrived at my hide. We talked for five minutes and then Duke got anxious and kept nudging me. I thought I had better let him off to do his thing with the Cocky watching. Duke took the easy bird first. I knew I had a walker out there and I reckon Duke did too. I sent him on a line where I had seen it last. He took off in a straight line for 200m then looked to chase some birds on the ground, only to lock onto the wounded bird at 280 – 300m. Another in the bag. Now you know why I accepted his proposal.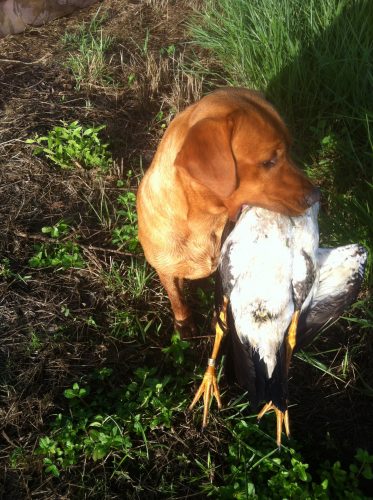 26th hunt. Hay farm
We arrived late this morning and most birds were already landed and eating the crop. We were well off the flight line and only had a few opportunities for the morning. The blind got a bit of a tidy up following the recent storm and then we sat in for the wait. A lone bird travelled parallel with the fence and just on the other side. It was only about 20m away. I raised the gun, and with a bum, belly and beak lead, gave it a full load of #2s. The goose dropped like a stone onto the track with a thud. Duke was straining on the lead to go, but settled and stayed while I slipped his collar. On command he made an easy retrieve. Twenty minutes later another fell to a similar fate. Neither were difficult retrieves, but Duke did them cleanly without breaking. He remains quiet and still in the blind accepting pats and scratches behind the ear when times are slow. Even though he could see my mates still taking plenty of birds there was no whining, he is just attentive to birds in the air. I was impressed with the final pair. Once again, the first bird was flying slowly south on the other side of the fence about 40m from me when I took the shot with little lead needed. I reloaded and had a good look around to see if other birds were stirred up by my shot. As luck would have it, another lone bird was coming from south and would fly almost overhead. The decoys near me had really straightened this bird up. With another shot he dropped about 30m behind me. Two birds down in different paddocks and opposite directions. I slipped Duke's collar again and lined him up on the first bird. Out and straight back with the bird. The second goose was completely hidden now in 3' high grass. I wondered whether Duke had marked the bird well. I lined him up and told him to fetch. I wasn't exactly sure of the bird's whereabouts, but Duke was, and went straight to the fallen bird and completed another fabulous retrieve. A quiet morning by our usual standards, but one that still gave me joy and satisfaction that he has the memory to mark birds.

27th hunt. Hay farm
Duke put in a real workman like display today. The birds arrived a little later than usual and I could have spent another 20 minutes in the cot to be frank. We had the largest number of guns covering the farm for quite a few weeks. The Cocky was very impressed when he came out for his first run to scare the birds from the crop. He commented that there wasn't a bird on the crop and I indicated a few more guns were doing the job. We have been hunting birds on these farms since July and there appears to be no letting up. We must get more birds on their permits as a concession to the reality that they have a vulnerable growing season of at least 10 months of the year with five separate crops. It starts with melons, then mangoes, then pawpaw, bananas and cavalcade hay. I wouldn't mind a job keeping the corellas off the melons on a quad with an auto in the Dry. I might show my ability this coming season and take the quad out with me. Start the morning from a blind and finish in a blaze of glory riding off into the sunset. I was finding it hard to drop doubles and couldn't connect with the first barrel for some time. I was picking up a single with each opportunity and only got five doubles for the day. I believe I have perfected the decoy pattern. All facing into the breeze, if there is one in a large open V formation. The sides of the V have at least three birds in each row or group spaced at least 6' apart. This spacing makes my 30-decoy set quite large, but the point of the V is quite close to the blind. The geese line up to drop into the open area of the V. Today I was missing the close birds with feet down on the first barrel. I think because it was a more horizontal shot and the bird was dropping I was lifting my head off the gun and shooting over the top of the goose. Nut on the butt. Duke did a good job but nothing as spectacular as last week. He more readily handed over the birds later in the morning I noted.
28th hunt. Hay farm
Weather fine, sunrise is now later, and first light doesn't occur until 06:28. Therefore, we delayed departure from the servo until 05:45. We still had 10 minutes up our sleeve after putting out decoys. The breeze was coming from the west instead of the south. A new plan was hatched and I set the deeks in the other paddock to my east. This would mean looking into the sun as birds approached. My friends nearer the pump shed had the best of the shooting early. It was amazing to watch. They were dropping birds, it seemed with every shot. There were very few missed. My end of the crop was slower. I decked one single bird and Duke was so hyped up he broke when I slipped the lead. He had seen so many drop a kilometre away he wanted this bird bad. We got over that moment. The Cocky turned up in his SXS vehicle to harass the birds off the crop and we hunkered down to await the flocks that would surely come.
I dropped eight before it settled down enough to send Duke. He was amazing in the fact that he collected all eight from either side of the fence that splits the two paddocks. I wasn't quite sure of how many I had dropped so I sent him a subsequent time into the east paddock just to check, but it was completely clear of birds. There were a few more singles to come. The big event was a mob that were working towards my deeks. We were ready. Just as they drifted over the edge of the decoys six of the seven broke out left. I took the easy loner with the first barrel and he just dropped it into the west paddock. The lead six were heading out quick. I took the shot at Tail End Charlie at 45m. More in hope than expectation. Charlie was in trouble. The starboard engine was on fire and he had severe hydraulic problems. At 250m there was a shudder, stall and lights out. Crash. Duke had watched the whole aviation disaster play out. I looked down and he was locked on to the long goose. I slipped the
lead and sent him. He was smart. He took a slightly inside angle of say 10 degrees more east. Bang at 250m, left turn Clyde and the goose was only 20m west of him. He now had to come back past my first goose of the pair. He came right over it and nearly switched game. Lots of yelling 'HOLD' changed his mind and he came all the way in for one of his best retrieves of the season. Or at least the last week. He completed the double easily. We were a very happy team at the end of the hunt. This beats the hell out of working.
29th hunt. Hay farm
This morning I moved to an area midway along the fence dividing the two lower grass paddocks. I set up a new blind on the strainer post. It was a little sparse and rudimentary but did the job. Duke worked well and got all my birds on our side of the fence. I can't recall now anything special about these retrieves or the shots taken. The revelation was when I lifted Duke over the fence to do the remaining birds. Duke was a little confused as to why he had been put over the fence. To tell the truth I didn't really know exactly how I was going to do it either. So, with him seated in front of me facing me I gave him the Fetch Back command. It was good there was a slight breeze to his back from the east and plenty of birds to find. He did a 180 and started to work the breeze. In no time he had the first one in and I continued to do the Fetch Backs. Then with some birds to the north I sent him on a line with Fetch over up the fence line. He went out parallel with the fence until he got scent and did the right turn Clyde on to the last remaining birds. It was very satisfying for both of us that we understood what to do from our hand signal training. This is so much fun.
30th hunt. Hay farm
We went back to our new hide and dressed it up with some camo net and a couple of star pickets to make a hide that resembled a stall. I will get a couple of taller pickets just to give it a little more height so my head isn't skylined when I am seated on my Avery Marsh stool. This morning we had a light, cool southerly breeze while I set the deeks and Duke relieved himself and ran off some steam. There was a large puddle on the track and I made that the focus of the decoy spread. It was like Cyclone Marcus had blown the brains out of the geese last Saturday. There were certainly fewer of them coming on to the crop, but they were in smaller mobs, so the hunting was still superb. They decoyed brilliantly and most shots were close. I learnt today that Duke is much calmer on delivery if I am seated on the stool. He sits quickly on his return and hands over readily. Often in the past he has been reluctant to sit and disgorge the first few retrieves. This was certainly overcome by being seated. I look forward to doing this again next week and cementing this much better delivery into his routine. A great morning's hunt. I had to put Duke over the fence again for a couple of birds and he responded well again to the hand signals.
April 8, 2018. Duke's first RATG
We were fourth in order of four dogs to run in the event. That meant all the other dogs had left some interesting smells all over the joint by the time we got to the pegs. But I did need to see what to do, so it was understandable. Duke heeled well but relieved himself on the fence after we finished the heel. Lost a point there for soiling the ground. I Sat and Stayed him for the Recall. I moved off and after 10 steps looked over my shoulder and he is up and sniffing were pretty little Zoe had sat down previously. I yelled Sit and Stay again and he complied. We went to the first retrieve along the back fence of the property. It borders Jarred Sack's house, a mate of mine. Just as one of his pig dogs came to the fence to bark and threaten Duke. Duke thought that a little dog racing along the fence would be fun. We stuffed that retrieve as the Judge signalled of the dummy to be thrown as soon as Duke's bum touched down on the Sit command. I never got to say Stay and Watch. I never saw a
dummy thrown or land all morning. I was still going through my Sit, Stay, Watch routine while Duke was running off to fetch. Then on the second retrieve after breaking again he thought he would have a wee on the way back and another almost on the Judge's leg. No chocolates for us. Oh well, I learned a lot. Duke didn't. There is a Retrieving Trial with real game on April 29. I offered to supply birds and possibly the lagoon at the end of my street as a venue. Home ground advantage. It'll be like Carlton visiting Victoria Park. Cold showers and hot tongue for the other dogs.
April 13, 2018. Home lagoon
I have really got going with the dummy launcher over the past few days. Duke is responding well. I have started with a 4m check lead just in case he breaks again. He hasn't to date. He lost the dummy on one of the retrieves and I called out to him, got his attention and then gave the Fetch Over command. He followed it and found the dummy. I was very satisfied with that. When the water recedes a few more metres I will be able to get the dummy into the pipe reed. That will add another dimension with hidden stuff. We are really enjoying this because the end game isn't next hunting season, but a Trial in a fortnight's time.
April 18, 2018. Home lagoon
It has been eye opening recently on how much I must reinforce some basics. As mentioned previously Duke broke at the RATG. It has now occurred a few other times in training. He is over eager now since the hunting season has concluded. I have had to return to throwing dummies and keeping him on a stay and collecting them myself.
Lately I have been making good use of the training areas at my backdoor. The lagoon is full enough to have swimming retrieves. Duke loves these. The pipe reed is just a little too far for the launcher, but I hope as the level recedes I will get the dummy into the reeds for hidden blinds. When the area dries back I will clear some paths with the chainsaw and tractor/slasher. This may allow the lagoon to be used for retrieving trials and RATGs in future.
Cyclone Marcus has dropped some large trees over the tracks. Duke is a great hurdler and enjoys jumping over them. This has coincided with the spear grass being at its peak height of nine foot tall. The tree trunks as hurdles, followed by a wall of 9' high grass is an imposing barrier to launch dummies into. Somewhat similar to dry cumbungi. Duke is doing well with these retrieves over the hurdle, into heavy cover and back over the hurdle.
April 27, Home Lagoon
Beware the swamp of serpents! Duke and I gaily went down to the local lagoon to train up enough to impress the Palmerston Gundog Club members at the upcoming Retriever Trial training day. We were both snookered by vipers. We had done one retrieve that wasn't so good because Duke wanted to play in the water. I rethought the plan and decided to move to another spot on the shoreline while allowing him his splash and crash antics in the shallows. As I was walking the shoreline I was confronted with what I believe was a young Death Adder. I froze, got ready to back up and checked where the Duke was. To my horror he was confronting another that was wriggling away and then rearing to strike. We had stumbled into a snake pit. I yelled in a "Manly Tone" to get the hell out of Dodge and Duke saw the sense in retreat. I have been running into quite a few snakes around the place in the last few weeks since the Cyclone. I might need a poacher's .410 in my pack from now on.
April 28, New sandpit wetland on Gunn Point Rd
Duke and I had a good day training with the Palmerston Gundog Club this morning. I am so sorry now I didn't take him to Puppy School. He is so excitable at the start of all the events when other dogs are present. It is almost impossible to control him. Lucky today was a training day and we could run our dogs multiple times. Duke was over excited early and blinked on a dummy, then broke on the next retrieve. After that he improved with every retrieve and by the end was doing 120m retrieves on dead birds into water. To add a degree of difficulty he had to negotiate the throwing team and their dogs all gathered together 20m from where the bird landed in the water. I was very pleased as he did his final retrieve with me using a gun and all these dogs just metres from the fallen bird. He didn't break and completed the only retrieve that I brought the gun out for. At that point we bowed and spun on our heels in military fashion and headed for the esky. This is good fun.
May 15, Home
Mark Davis arrived in town last week and called in to see how Duke was going. Mark is half of Beereegan Kennels with wife Wendy. It was great to have him over to see how Duke was coming along and assess my training methods. We went down to the lagoon and Duke showed his stuff. He performed well in front of such an elite guest. I asked Mark if he could help me with Whistle Stop training. It just happened that this was his next course of training tips in Field & Game magazine coming issues. We were lucky to get a couple of drills hand drawn and explained. Duke and I went to work the next day. It didn't work too well at first, but Duke was just not into training that day. I called it off and went back to it today. Things went brilliantly. He remembered what I wanted and started to comply. We still have a long way to go, but the early signs are good.
May 27, 2018 Retriever Ability Test for Gundogs (RATG).
We went to the RATG full of hope and anticipation. I had a couple of new nails to tack up the sash that we would surely win. I purchased a bottle of Drambuie to salute his first win. He had trained up a storm all week. He had had a few pisses and a dump out in the bush behind the block. Kayla had helped us on Saturday and this morning in the half light of dawn throwing dummies out at a distance from us to ensure he lifted his eyes. He was straight as an arrow with all these retrieves, even though Daisy and Ned were there close enough to distract him. On arrival at the trial site, we went through the obligatory hand shakes and greetings of fellow competitors and the Judge. We then went into some final run throughs just to settle down. It was now our turn. While the walk at heel wasn't text book, it was good enough. Duke pissed again at the end of that, but no points were deducted because it was between runs. The Sit and recall wasn't too bad although he did creep along on his arse like the worms were biting to sneak closer to me, but I stopped him doing that. At arrival on the recall he did run past a metre or two to get the assembled dogs right up near me. I got control of him though. I reckon these other competitors are having a lend of us. All dogs are away out of sight for their runs but by the time it is our turn we have a grandstand full of them right behind me. On the last run I was sick of the gamesmanship and asked for these dogs to be put back in the mustering yard. Back to the story. Not perfect, but we hadn't bombed out on the first two runs. Run three was a 50m retrieve with the dummy landing next to a burn pile of timber, palm fronds and weeds from the recent cyclone. Duke went out like a shot, swooped on the dummy like Leon Davis at full tilt, turned and was taken by pungent scent of urine and musk all over the weeds and branches from the home town competitor. He just had to stop, and it was considered he had four pisses on the four corners of the pile. Straight back to me at speed. At least he never dropped the dummy. Then we came to the last run, a 70m retrieve to the burn pile but from right next to a dead sapling. You guessed it. From control point to control point he had a piss again. We got to the
Sit, Stay, Watch and the thrower was tangled. We returned to the start point. Off again to the second control point. No pisses this time but he had lost the points in the first attempt. The thrower tangled again. Return to start. Once more into the breach, second control point and the neighbours truck with three barking pig dogs went just metres beyond the dummy on the battle axe block driveway. He stood steady until they passed and I sent him for what was a good retrieve. This dog is pissing his career away. He reminds me of myself during my apprenticeship at Waverley Offset. Score 61/100. No chocolates.
July 2018 Training notes – Whistle stops, hand signals and tree climbing
Duke and I have been training regularly. He lives for it and gives me a mouthful if I have neglected him for a session. It is the only time he barks really, but it is his way of saying "I've been waiting here for two days and you haven't met your end of the deal". I have been following Mark Davis' drills to stop Duke with the whistle and then give hand signal directions to the bird or dummy. He got it after a few days. Then while he was freely running on our walking tracks through the bush he would often pause to see if I was following. At this point I would blow the stop whistle and sit him at that distance. Firstly, I would walk up to him and reward him with a tid-bit. Following that when he paused on the track I would whistle stop, sit, stay and throw a dummy for a fetch. He enjoyed this so much he kept doing it routinely, virtually telling me "I'm far enough away now, throw the dummy, stupid". I didn't fall for his demands. We did it my way.
Things are fantastic now with hand signals and whistle stops at distance. The other day I was launching dummies into the lagoon. I was using an orange one which is difficult for him to see. After the usual send and retrieves we had a tricky one which bounced off a tree into the fork of another branch rising up from a fallen log. The dummy was about five feet above the water level. The water was up to his withers but not deep enough to swim. He dashed out but then got confused when it wasn't in the water. He began to mill around the right area when he winded it. He climbed the fallen log twice but couldn't see the dummy. Finally, he winded it straight into the fork and climbed up the branch to get the dummy. I wish I had used the video on my phone. Since then we have been hiding dummies up trees and he now knows not just to look along the ground when he winds the dummy. This will be useful when geese get stuck in the mango trees. I will be teaching him how to climb trees as I find trees with useful limbs for climbing.
July 28 & 29, 2018. Retrieving Trial and Retrieving Ability Test
This retrieving trial has been a long time in the making. The May trial was cancelled due to no suitable venue with a safe water option included. Crocodiles do intimidate both the dogs and handlers. Not to mention they often beat the dog to the bird and steal the prize. A croc free lake was found by the Palmerston Gundog Club committee at Berry Springs but due to one of the few competitors coming in season and whisked away for a nookie in NSW the second trial was cancelled due to insufficient numbers. Finally, the planets aligned, and we came to the idyllic site. A massive lake, croc free with suitable run options for novice to open age trials. Duke was up against two other labs. There had been a withdrawal on the day so while there were only three dogs competing, although four were entered and on site. The trial consisted of three single marked retrieves. Nothing that Duke would be too difficult for Duke normally, but we have found that what can go wrong in competition, often will. His first retrieve on land was good while not quite perfect. He held steady to shot, but I was a little slow sending him and he may have just beaten me to the fetch command by a millisecond if I was being harsh. He went out straight but after picking up the bird pottered just a
touch on return. By saying this I mean he didn't sit instantly in front on return and pranced about a little. Another stern word and he sat to hand over the bird and move into the heel position, then back to the control point. One pleasing aspect was that he didn't have a slash for the first time in any competition. The second retrieve was a little longer but still simple. He performed flawlessly in the control area up to the firing point. He held perfectly steady, ran straight out to fetch and return with great style and action, then his bladder got the better of him just as he approached me at the firing point and fouled a tree with a little splash. I lost points too for yelling at him to stop relieving himself. He then went on to deliver the bird well and returned through the control zone. Two down, one to go and still in it, but knowing that points were running through our hands like sand. We got to the third run. A bird thrown falling on land, but we were separated by a 30m swim then up a steep bank to the bird, then back through the water to hand. Duke marked the fall well. He loves water and swims strongly, but usually no more than five metres or so across the creek at the gun club. He went out quick swimming well. When he emerged at the bank he seemed a little confused, pottered for a very short moment then cocked the leg on the tree. More points slipping away. He re-focused on the task at hand, climbed the bank and returned swiftly, delivering the bird to hand well. We only had one dog to beat as the other had failed on its first retrieve. Memphis lost it at the water retrieve and spent minutes pottering before fouling the control area to then go and retrieve the bird. When it came to presentations, while two dogs completed all the runs Duke had won on points. I checked with the judge and he came in with 129/180. I noted all the areas where we lost points and will work to remedy this before our next retrieving trial. We returned home happy that we were in the winner's circle for the first time and one step further along our training journey.
Sunday had a Retrieving Ability Test for Gundogs. This is a simpler version of retrieving competition that uses dummies instead of game birds, two basic obedience runs and two short retrieves. The first a 50m, followed by a 70m retrieve both marked falls. Duke performed well in the obedience runs and for the first time didn't have a slash. I mucked up when I left him on his stay and lead off on the wrong foot which encouraged him to follow. My mistake would cost us points, but Duke stayed on my follow up command, confused as he was by my foot fault. He was good between the flags for our first retrieve and went out like a bullet, got to the dummy sniffed it to show me he knew it was there and then went on to check more pleasant horsey smells at Fred's Pass polocrosse field. He then came back with a whistle, picked up the dummy and returned not quite in the most direct manner. His second retrieve over 70m was great. He remained steady, ran true picked up and returned quickly. His delivery and heel was great. Then he went to mark a tree that had been also marked by another competitor during the comp. Once again, he pissed points away. This probably wasn't what knocked us out of contention for a qualification score, but every deduction is keeping us from saluting. Great fun and he learns more and more as I do from this competition. Not just on what to do on the day, but how to prepare during the week. We were lucky that there was an open field too so we watched what will one day be our next challenge.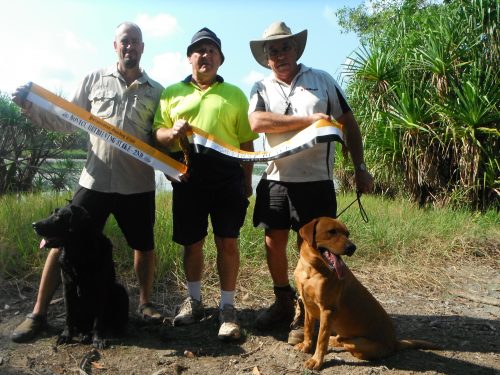 Duke put his first sash in the kennel. He is my first ever dog to win an RT
August 8, 2018. Penultimate RATG for 2018
Things started to go wrong early. I took Duke and Daisy for a walk at 6am down to the lagoon. Threw a couple of dummies into the water to get him keen and run a little steam off. On the way home I got distracted by feeding the chooks in the dark and Duke slipped away. I fed Daisy and started to whistle up Duke, thinking he was out in the bush. From the holler next door though I think he was in the neighbour's spa. A few more whistles and calls of sorry and we hightailed it for the RATG. We'll deal with the angry neighbour later.
Duke's recall was fine, so was his first retrieve. I reckon we were leading. He hadn't fouled the course. The other dogs weren't impressing but one was reluctantly finishing a retrieve. Just the two of us in it.
On the second retrieve the dummy flew up just as a mudlark flew into the same air space. The dummy started to fall away from the lark's flight lane and I thought all was good. The dummy landed with a thud and a kind bounce. I sent him for the dummy, but as he went out the mudlark landed 80m away to the right. Target acquired, missile deployed and Duke moved like a Sidewinder locked onto that little, tiny, baby magpie goose (mudlark). Game over for another month. One of these days, Duke, one of these days.
September 23, 2018. Final RATG for the trialling season
That one day in September, the Duke put it all together. Just like Collingwood on Friday night when they comprehensively beat Richmond. It has been a fantastic weekend with wins on all levels. The crop protection hunts started yesterday, and Duke retrieved a couple of geese for me. That was all I shot, so two from two is a good start.
The training leading up to Duke's first RATG win and even qualifying score was back to basics. Plenty of lead work just to regain some control. Dummies from the Ramset launcher a couple of weeks ago and then we tapered down to just obedience on lead and off, with a few real birds during the week. To say the least he was keen. We had a home ground advantage for the first time with the test at the NT Field and Game range. While we don't really do much training there at all, he is familiar with everything and nothing smells different or is a surprise to him or me. His work between the control points in the heel and recall were good. His first retrieve was great although I did have to heel him a couple of times to straighten him up for the dummy launch. He crept forward on each heel/stay for the launch and I was told by the judge that was where we lost a few points. The retrieve was straight out and back. Same with the second one. It was the longest 70m in history. I wouldn't mind buying real estate off this judge. It was more like 120m or three kicks for Tony Shaw and I.
The second sash is now hanging in Duke's dog run. It is starting to look like a fly screen at the fish and chip shop. Happy birthday Duke for tomorrow. Two wins for my two-year old.
October 2018, Top End, Northern Territory
Duke is on a mission to become the most celebrated Labrador in the local folklore of Labrador Retrievers.  The Duke Report was a blow by blow description of his formative year. He was under strict control and had, while not contrived hunting experiences, we kept the fall of geese to singles in the early part. This allowed me more control and set him on his path.
We are a long way down the road now. Duke retrieved mostly geese in his first season. He has been very active in this his second season and second year of age.
One of his recent retrieves was one for the ages.
Duke had brought back a good number of geese whilst I was hunting with good mate, Bullant. We were happily amassing a small pile of birds but nothing to brag about. The location was in amongst mango trees but with an area bare of trees but five-foot-high dead grass to our east. Duke had done what was required, but when I wounded a bird that still had Magpie guts and determination to make it to "Dover" he watched intently. The goose dropped in 150m away in the tall grass. I sent Duke on the retrieve and out he went. As he locked in on the scent of the bird it took flight.  With only a few wing beats Duke plucked a tail feather. With a few more he leapt again and took a fresh air shot, then with more of a run up and the crippled bird struggling he used a small anthill mound to launch himself skyward, taking a full grip and bringing the goose down on the third bite of the cherry. The crowd screamed DUKEY BOY!
Nothing remarkable other than diligent work, impressing visitors.
Today though Duke marked another milestone, exceeding his previous record of 33 with a 34-bird morning. The difference being that it was all rapid fire. This wasn't a slow accumulation of birds, they were dropping everywhere. I was hunting with a group of friends in a blind.
I was very impressed because while off lead (which was most of the time) he was staying to shot. I could control him and send. The only downside was he didn't always pick up the designated bird first. But on the other hand, he never switched game. After 34 he put up the white flag. He parked himself under my ute, put his paws over his ears and said no more. If he wants to beat Roy's record of 50 birds for the morning, we need to build stamina with events just like this. That sounds like fun for both of us.
Congratulations my little red-haired mate, 34 in one session is well on the way to super dog.
While he was good, we shot well too. Just let it be said. The Chronicle isn't all about Duke. I whacked 'em and stacked 'em. There were enough doubles to be happy and some long shots that just made Duke look back and say touche to the team. I started off scratchy only shooting double barrel birds. But I only missed entirely twice for the whole morning.
You didn't know Duke spoke French did you?
December 2018, Top End, Northern Territory
Duke keeps adding to the tally. Just regulation retrieves. He is marking birds well, even if they have dropped a long way out. On more than a few occasions recently I have had wounded birds drop up to 300m away. He has marked them and sometimes it has been up to five minutes or more before I have sent him because other birds have been flying and are possible decoy enquiries. When I have sent him, he has known exactly where the bird is located and fetched beautifully.
Yesterday was slow for us. Not a single bird until I packed up the deeks and returned to the shed for a coldy. It was there in front of all my mates I pulled off a long shot, that when paced out was 85m. I was testing some Spartan Global Steelmaxx 3" 36gr BBs for Coolalinga Guns & Ammo. You gotta love product testing. I love free ammo.
The NT Hunting season is drawing fast to a close, but not for Duke and I. We march to the beat of different drum.
I have been testing some new ammo for CGA. They wanted a report prior to stocking them next season. They are Spartan 3" 36gr #BBs and Kemen 2 ¾" 36gr #1s. I'm not impressed at all with the Kemen offering. I was shooting well prior to this test and while I am pulling feathers there are few DOAs. The 3" magnums have no additional felt recoil to my usual 32gr steel loads of Remington Nitro Steel or Eley VIP. But still I wouldn't go out of my way to put these in the belt.
Duke on the other hand has continued to impress. I had him out looking for a "blind starling" in a patch of sorghum when I shot and wounded a goose with the test shells. As usual it did a long glide and Duke was hot on its vapour trail. The goose spluttered to a less than elegant landing 500m from me. It turned to give me the finger and there was Duke closing fast. The goose took off but within half a dozen wing beats Duke had snatched it out of the sky with Carmanesque style. That's Phil Carmen for those of you who don't remember the best player I have seen in a Collingwood jumper.
He also showed his intelligence this morning when I lifted him over the fence to retrieve what I thought was a wounded bird in the paddock out the front of the shed where we clean birds. The fences up here are all ringlock pig wire with two strands of barb on top and another strained super tight on the bottom. They are impenetrable. He took off across the paddock to the bird, but it wasn't as wounded as I thought and took off for parts unknown. Duke returned only to find me back in the shed sucking on a coldy. With that being the case he went to the corner of the paddock and realised there was no opening then galloped along the fence past me to the other end of the fence which was at least 300m away. I was so pleased that he was independent enough not to bother me to come and lift him over. He is a thinker.
Top End, Northern Territory
Hunting will continue as long as the geese and parrots are causing damage to banana, paw paw and hay crops in the local area. Jason McCormick joined me for the Sunday shoot. We were amazed by the lightning show to the west of us while we placed the decoys out in the pre-dawn. Spider lightning lit up the sky so much the car headlights were virtually superfluous. This lightning shoots trunk and branch style lightning upward across the heavens and is something to see. Then when we settled into the refurbished hide to one of the best sunrises I have ever witnessed up here. The eastern horizon lit up with an almost ruby red reflection off the cloud.
This pic doesn't quite show the true colour of the sunrise as it was before I got the camera out, but you get the idea I'm sure.
We didn't get that many opportunities for the morning and should've shot better, but we certainly enjoyed ourselves in our little camo cubby house. Duke made many retrieves for the morning. Because we were shooting in unison, he didn't always get to mark each bird. The camo net also made it hard for him so to see all the falls. Jason was amazed to see Duke take a wide line to catch the cross breeze and turn on a dime just as I would predict to almost the exact second, "Right Turn Clyde".
The morning was cool with a nice breeze coming through following the storm earlier. We stayed in the hide until 9am enjoying a few frothies and talking the shit mates do when they haven't hunted together for almost a year.
Duke and I were on the hunt again this morning. One of the host farmers went away on holidays yesterday so I had to guide most of the hunters through a hole in the fence linking two of the farms. By the time I had done that there was little time for me to find a good position and set up. I also was slack and my frustration boiled over and I neither put out decoys or moved far enough from my poorly hidden vehicle. Needless to say, the birds that did come close were spooked by my car. I haven't seen this to the degree it occurred this morning, but it had to be the case. Three weeks ago, I was hunting with CGA owner Darryl and we had the deeks only 10m away from the car in full view and the birds had the landing gear down and were only metres off the ground when we hit them. Late season geese get the smarts eventually. Let's face it they are not the Einstein of the avians. I shot poorly to round it off and Duke only had two opportunities as they were both long birds from where I had him tethered. One was DOA, the other glided in to a sputtering landing. DOA was in hand quickly and I sent him for the glider. He went straight to where I expected the bird had landed unseen to me and saw a flash of white from what I expect was the bird taking off again. Moments later I could see Duke proudly coming back with a very much alive bird. He is getting very good at taking overhead marks whilst running with the flight of the ball.
Hunted again on Sunday with only a few braving the monsoonal conditions in the area. The BOM radar showed the farms to be clear of rain so Duke and I took the punt.
Because we didn't have all areas covered by hunters the geese seemed to make a bee line straight across the hay paddocks and were landing into the mangoes and the old melon crop. Few responded to the call or the decoys. I ended up knocking down a few but I was out of puff from blowing the call to all the deaf ones. Early on I noticed the farmer's blue heeler was shadowing us far out in the paddock behind. I dropped a goose over the fence about 50m from us. Duke scrambled under the fence and was tearing across the paddock directly to it when the heeler made it first, standing over the bird and looking at Duke closing to within 30m. Duke saw the heeler and with a 90 degree turn, exited stage left and began "looking" elsewhere. I was laughing my head off at my "little coward of the county". He made it look very convincing that the goose could be anywhere else than between the front legs of that wolf like creature. He aint no hero, but he is very entertaining. The heeler later left the bird untouched and went to help out the other party of hunters. Duke found the "lost" bird later during another retrieve on that side of the fence. "Good boy Duke"
NT Field and Game range, Northern Territory
It was a good start to April Fool's Day when the second toss of the dummy into Mickett Creek landed it into a tree branch overhanging the pool. The dummy was hanging about three foot above the surface at the shallow end of the pool. Duke swam out and then in circles below the dummy without looking up to it. I was thinking he clearly saw where it hung and was strangely doing laps below, but then when he had enough branches and foliage tangled in his legs and the limb supporting the dummy was now pulled lower into the water, he looked up for the dummy and made a series of leaps at it. On the fourth attempt he got hold of it and pulled it free. He had a plan from the start. What a thinker. His little mate Daisy has left to live with Kayla. Duke doesn't seem perturbed and now has indoor privileges. I just taught him how to drop so I could write this. It took two minutes to train him.
Trial and Ability test season is upon us, but the first RATG was cancelled and we can't make the second one this weekend.
Notes: The NT Waterfowl hunting season went from October 1 to January 2. The daily bag limit for geese was five and 10 for duck. The season followed an above average Wet with 95,000 nests and 918,000 geese prior to breeding. We hunted almost exclusively on farmland doing crop protection amongst melons, mangoes, bananas, paw paw and hay.
June 2019 Gday guys, 
The little red fella has done it again. With scores of 56/60, 54/60 and 54/60 he blitzed the field to win his second novice retrieving trial.He added another ribbon to the kennel. Two Retriever Ability Test wins followed with two RT wins out of two.One more win in each and he will progress to Open and Restricted respectively.He is celebrating right now with an extended stay laying on his camo net on the back of the ute. His camo net on the truck is his preferred posi.This dog is a pleasure to train and hunt with.
January 1, 2020
Retrieving Trial and Retrieving Ability Test update
Duke had a great 2019 on the Trial scene. He won two Retrieving Trials (RT) and two more Retriever Ability Tests for Gundogs (RATG). He was probably the most consistent gundog performing the NT. Alas there don't seem to be any prizes anymore presented by the Palmerston Gundog Club for that. I can't imagine he would have been shaded by any other dog. He would have won three Trials had I not stuffed up and forgot to shoot at the first bird of the day and forget to put his lead back on at the control point. I lost that trial for Duke and he was just two points off the winner. We look forward to the 2020 season and hopefully stepping up into Restricted and Open classes respectively.
The Grand
Duke finished the 2018/19 season on 825 bird career tally. Tantalisingly short of the Grand. We can announce with great pride that he cruised into the Grand as soon as the geese arrived. Last week he delivered his 1000th bird to hand with blackies, whistlers and geese all making a pile of 20 in front of me. He had just collected his Personal Best of 40 geese earlier in the week while out hunting with the same friends. He surpassed that just this week with a new goose record of 45 geese in ploughed alluvial sand. Tough going for my little red-haired mate. He has averaged 400 birds per annum in his first two seasons. He picked up 99 this week. Hopefully the birds will stick around and I will have good shooters around me to help boost his tallies.
Target rich
Today Duke kept the drop zone free of 'poorly groomed' geese. This is what I call belly up geese or geese lying around with wings stuck at spastic angles. To continue to decoy the geese into the  zone it must be neat, tidy and not too widespread. This is where Duke comes into his own. He knows the dead birds arranged as decoys and seeks out the wounded and askew to return to me for a little 'flower arranging'.
I had mates hunting on the fence line this morning about 400m away. I saw them wandering around hell, west and crooked retrieving shot birds and dispatching them with a golf club. Duke and I thought we would help "Jack Nicklaus" and Duke went on some marathon runs. I wouldn't be lying to say he did eight retrieves of over 300m and some up to 500m from our hide. His 28 birds today were quality retrieves. He lifted his eyes and saw them come down in the next postcode.
Duke salutes – June 14, 2020 We could tell by the sly little look Duke gave the camera two years ago that he was made of the best stuff. Today he won his third Novice Retriever Trial and gained the Novice Retriever Dog title.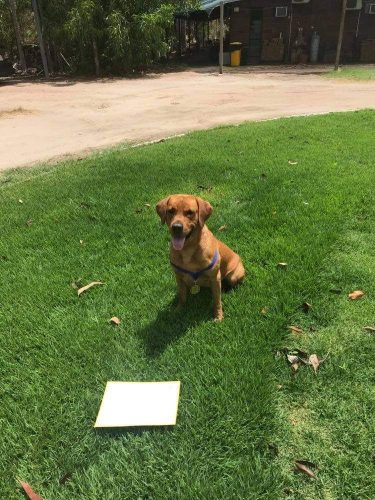 I must thank his breeders Mark and Wendy Davis of Beereegan Kennels and Graham (Dr Duck) Eames for selecting the best dog I could hope for.
He has excelled in the field with over 1000 birds to hand to date and now the letters NRD after his name. He knows more about geese than some boffins with a PhD after their name. The first run was about 70m with Jap quail falling into the shadows on a track. The surrounding gamba grass was 12' high. The bird showed clearly against the early morning blue sky. Duke seemed to see the bird land, stayed to shot and while running directly over the bird came back on his nose for a very acceptable retrieve on 'new' game. We don't hunt quail in the NT, so these were new birds to all the dogs. Judge, Tom Rees awards Duke with the first-place ribbon and certificate Run two was again at least 80m and across rocks and water. A dark brown whistle duck fell on land across the water. Duke did this one in doddle and didn't lose any points although I lost five for closing the gun between pegs. Silly me, but I had forgot to push the safety off on the first run and just got the shot off before the bird dropped from sight. That is why I prematurely closed the gun.
The final run was another duck thrown from the bank out about 15 metres into the water. I found out later the catapult caught on grass and the bird should have landed out further past the lotus lilies. The duck's proximity to the bank enticed Duke to run the bank rather than swim directly out to it. He lost five points for again overrunning the bird but with a long swim back completed the retrieve. Duke won outright with 152 points. Congratulations to my little red-haired NeRD. A catchy turn of phrase to describe Duke's efforts might be; "he was relentless in his retrieval of the fallen.
He was as tenacious as Medal of Honour recipient Desmond Doss on Hacksaw Ridge".
July 25 and 26, 2020 Duke and I went into an action-packed weekend of trials and tests. Two trials on Saturday and two tests on Sunday. The trials were to be held with quail and duck. Many of the other competitors had failed early in the past on quail but Duke had some insider trader knowledge on these little birds. This time though, all but one of the dogs managed to get through beyond the quail. That dog is now referred to as 'Gulp'. Duke was keen as mustard but with my new regimen of arriving half an hour earlier at the meeting spot, and having a run around and then some solid heeling work he settled better between the pegs.
He blinked a little on the first quail, but was a fair way ahead on his first retrieve. His second was a duck and it was faultless apart from the angle he arrived at the firing point. But no trouble with the retrieve. The third had the boldest water entry and easy retrieve of the duck to hand. Nailed one. The second trial was even better on the quail and duck. The final water retrieve Duke ran the bank rather than the direct line of the water, but was back in seconds with the duck. Although that route should have lost him points his speed and brains to get the bird quickly was impressive. Two outright wins and now five certificates in Novice Retrieving Trials. NRD as complete as you can get it.The next day we had two Retrieving Ability Tests for Gundogs (RATG). I thought he may be a little distracted going back to dummies and continue to look for game birds as he had in previous tests, but the effort I had put in to really praise him when he retrieved dummies in training paid off. He won both RATGs with flying colours. Four sashes and certificates for the weekend and off to Dogs NT to apply for NRD and NRA titles to be added to his name. Well done Beereegan Indigo Blue NRD, NRA.
August 9, 2020 This was Duke's first performance in RATG Open class. Little changes to the format included a longer walk at heel with two right angle turns. Then a recall and stop half-way. Duke did the heeling and turns pretty well. The recall was shorter than we were used to, so when the judge called for him to be stopped, he was really quite close as he was coming in hot. He didn't stop in exactly one body length, but with the second command he did halt. All good, we were still in it.
The first retrieve was slightly botched. It was a walk up and between the pegs Duke got a little forward of me. I called him to heel and rather than keep looking forward and allowing me to catch up, he turned and went back behind me to heel just as the bird was cast. He never saw it. He did go out on a perfect line though. But as he crested the bank he blinked and overshot the bird and went for a swim. I expect he was thinking that is where the dummy will be. I always enjoy throwing dummies into water when it is available, so it was natural for him to think that is where it was. He pottered around back to me and I sent him on a straight line again for a quick retrieve back. Still in the game. On the last run he was just fabulous. He marked the first dummy across 25m of water on a rise about 60m out. Found it easily and came straight back to hand. While returning an unseen dummy was thrown in an area close but slightly further than the first landing. I sent him on a line that was a little downwind but when he emerged from the water and climbed the bank, he took a line more upwind of the dummy. I was able to stop him and use hand signals twice, left and right to direct him into the area where he winded the dummy and completed the retrieve. We did well and while we didn't set the world on fire in our first Open attempt, Duke did qualify with 75 points. One down two to go.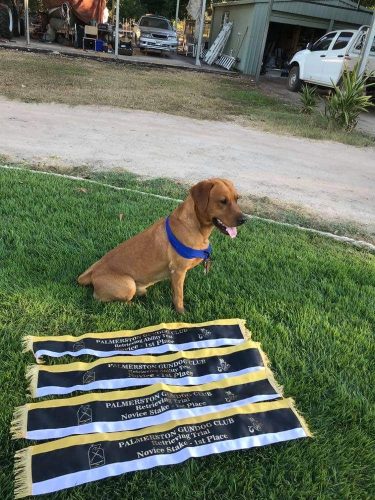 September 20, 2020
Duke and I eagerly set off with hope in our hearts but were stopped in our tracks at the front gate. There laying in the driveway was a dead magpie goose. Three days short of the NT Waterfowl hunting season. Was this a message from the Goose Mafia, akin to a horse head in the bed, Mario Puzo style? I checked it over, no marks, no holes. Could be a drug addict who overdosed. It was under the power lines and we had a power flick at 5am. Ominous … or fortuitous? Duke reckoned the latter. Now he had a goose as a driving partner in the ute.
The Palmerston Gundog Club had the biggest field I can recall and two grades for the final RATGs of 2020. It was a double header. Duke performed well in the obedience but nearly broke in the walk up. Note to self, do a few walk ups in training as we haven't before. He retrieved the dummy easily. The next was a double mark. We haven't trained for these at such distances, mainly because I haven't had an assistant. Note to self… pressgang family with physical threats if necessary. The first dummy launched skywards, and Duke marked well, but as I changed his angle for the launch of the second dummy it was thrown and neither of us saw it. I tried to get him on line for where it should be, but to no avail. I should have stopped him out there short of the first bird and directed him with hand signals to the second bird, but I didn't think at the time. He picked up the wrong bird first and we were disqualified as were all dogs in the Open class on this run. The second Test went much better. Duke performed the first two tasks flawlessly with the Double Rise to follow. This involves a seen bird retrieved and while returning a second dummy is thrown at least 10m further without Duke seeing it. Duke got the first bird easily. Straight as a die. A good cross breeze was blowing so I tried to send him about 20 degrees downwind. Duke had other ideas and almost went off at 90 degrees. He knew best, and rounded on winding the dummy and tracked up to it perfectly. The Test was completed and I thought we qualified. The judge confirmed it with 86 points, the only dog to qualify in Open for the day. Well done Duke. We came for two, but one is better than nothing.
The Open title beckons next year. Goose season starts on Wednesday and Duke is in prime condition. We are going on a private hunt with friends. I hope Duke gets to work for them too and can amass a new record.