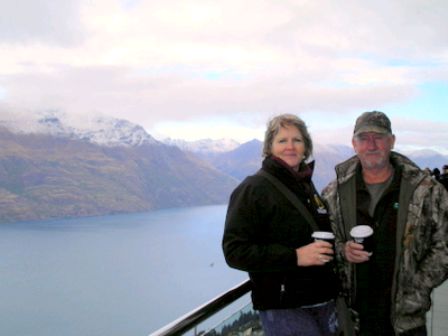 Mark and I
have been breeding Labs
for 35 years,
consistently
producing dogs with Type, Temperament 
and  Proven Working ability. It is our hobby and our passion.

Producing multi purpose Labradors with natural hunting ability and retrieving drive is what we strive for but just as importantly possessing that wonderful Labrador nature. Our endeavour is to breed Labradors that meet the breed standard, he should be handsome, intelligent and capable of a full days work in the field.
Mark has worked gundogs in the Field since 1973 and along with Labradors has trained Cocker Spaniels, German Shorthaired Pointers & Hungarian Viszlas 
We bred our first litter of Labradors in 1987 and from this litter our first Retrieving Trial Champion.
We compete in Retrieving Trials around Australia where our dogs have acquitted themselves very well over  many years. 
Winning 12 State Championships!
And 3 National Retrieving Trial Championships !!
And been fortunate to finish and place in a number of National Championships with five different Dogs.
RT.CH Beereegan Wonderson, RT.CH Beereegan Dr Jones , Rt.Ch Beereegan Magic Lass CM 
NTL & GR  RT CH Beereegan One Tree CM 2005 and NTL & GR RT CH  Beereegan Last Boy Scout  CM in 2012
We are the only Kennel in Australia to have bred & trained two National & Grand Retrieving Trial Champions!
We have also bred and trained Retrieving Trial Champions from each of the three Labrador colours, proving a good dog is never a bad colour.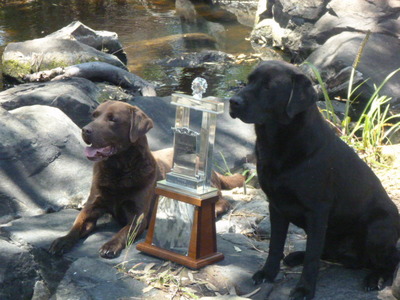 Swampy & Scout with the National trophy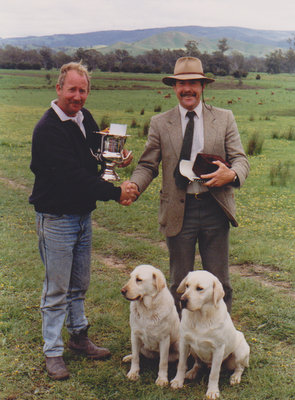 1991 Vic State Championship   Lass 4th – Moz 1st     Judge – Mr Mick Strawbridge SA   
We use positive reinforcement in our training methods. We do not use electric collars on our dogs. Our goal is to produce biddable dogs with inherited retrieving drive, that perform out of a desire to please.
Check out our Training Philosophy page to find out more.

Mark was granted his  Retrieving Trial  judges license in 1995 and has Judged trials in every Australian State. We are both Committee & Founding members of the Central Highlands Working Gundog Club, we are also life members of  the CHWGC, members of the Labrador Retriever Club of Victoria , the Gundog Club of Victoria,
Field & Game Australia and Retrieving and field trial club of South Australia.